9-0, 9-4, 3-2.  Final scores.  The Giants won the first two.  Attempt to control your gasps.
Although this morning's game leaves a kind of sour taste in my mouth, the Giants scored twenty runs over the course of the three game series in Atlanta, which kind of feels like more runs than they've scored all year, combined.  Slight exaggeration, but they won the series and played basically good ball.  Sour taste is not necessary, lovelies.
One of the big storylines of this series was Melky Cabrera and Chipper Jones feuding through the media.  (Will these guys never learn that the media is, er, not the smartest way to feud?)  Summary:  Chipper thought Melky was being obnoxious with his celebrations, which Melky – much as I love him – basically was, and Melky thought he and Chipper were buddies so he was surprised Chipper would rip on him.  Media said Tim Hudson would plunk Melky in today's game but Tim Hudson had no apparent interest in plunking Melky.  War over.  (For now.)  It's a little bit shrug-worthy, in my opinion.  Baseball players are not really known for their tact or humility and it's not a huge deal in any case.  I understand why the Atlanta fans would be insulted or offended and, as Bruce Bochy said, a talk is probably in order with the Melk Man, but it's not a news story worth bumping REPORT:  A-ROD TRADED TO THE GIANTS FOR JUSTIN CHRISTIAN off the front page.   I mean, I live for those trade rumor stories.
The Giants are heading to Philadelphia next and I'm all at once nervous and excited.  This is a chance for the team to perform well in the hot weather and the second half heating up in more ways than one.  With Lincecum starting tomorrow night, that will the first and perhaps more interesting hurdle.  Rooting for him big time.  Printing out that blueberry muffins recipe as I write.  (Sadly, not kidding.)
Also, this video just made my life.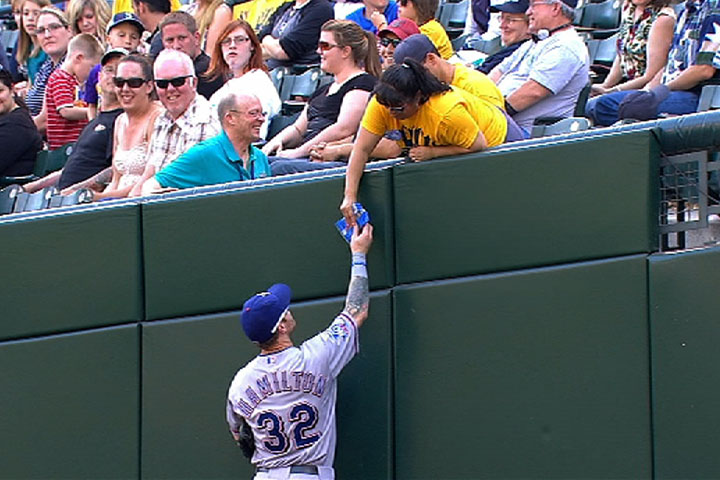 For those of you who don't know, the way I reward myself for being a nice sister and hanging at The Little Brother's Little League games is copious amounts of red licorice from the snack bar.  They could stop carrying everything besides that licorice and I probably wouldn't notice.  So for me, red licorice and baseball are synonymous.  Apparently Josh Hamilton agrees.  If I were that fan, I might have died on the spot.  Not necessarily exaggerating.  I'm seeing the Angels play the Rangers in Anaheim this weekend.  If I don't blog after the game, you know what happened.  I died because Josh Hamilton took licorice out of my very hands.
Diamond Girl