(Eh, about the ads you are now seeing all over my blog, MLB.com is making some changes, it seems.  For the moment, please use your fabulous talent for blocking things out and enjoy my witty posts, m'kay?)
By now, you've probably all seen the video of the Rangers and Twins being shocked on the field by a massive thunder clap.  But if you live under a rock/like to spend your weekends sleeping (understandable), here it is one more time.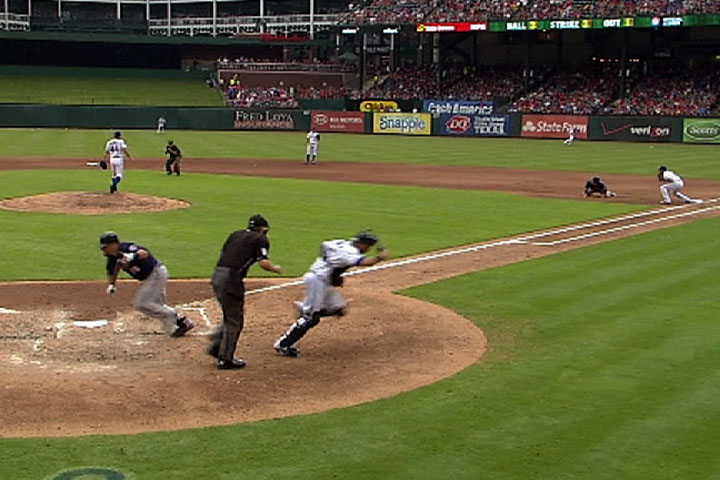 The thing that really cracked me up, aside from the obvious, was the wide shot, where you can see the entire infield jump.  Entire, that is, other than Ian Kinsler, who is apparently completely unaffected.  It's not even that he's not afraid of lightning, he must not be afraid of anything.  Because if I were on the field, I think my first thoughts would have been zombie apocalypse/terrorist attack/Bud Selig's helicopter landing on the field.  And in any of those situations, I would have been scared out of my mind.  Not Kins.  A few minutes later, he's still laughing about it on the field.
Move over, Jeff Kent.  We have a new MLB player who would be perfect for Survivor.
In other news, this is the 83rd annual MLB All Star Game and this year was also the 84th annual Academy Awards.  Which means someone thought of those two things right around the same time.  Which, I can't lie, makes me kind of irrationally happy.
Have to go now.  There are many photos of badly-dressed baseball players on Media Day to look at before the Ridiculously Long Home Run Derby kicks off in a few hours.   I don't know who I'm rooting for.  I detest the Home Run Derby almost as much as I detest the winners they choose at the Academy Awards.  Still, I watch both from beginning to end.  The mysteries of the world are infinite.
Diamond Girl