Hello, strangers!  I am back in the Bay Area – fog e.v.e.r.y.w.h.e.r.e – and still in jetlag elation mode.  Eating a lot of chocolate and renting The Fellowship of the Ring because why the heck not?  I'll probably crash sooner rather than later, but let's not consider that for the moment.  So!  What better way to buoy my already-fabulous mood than an, oh yes, walk-off win by the Giants?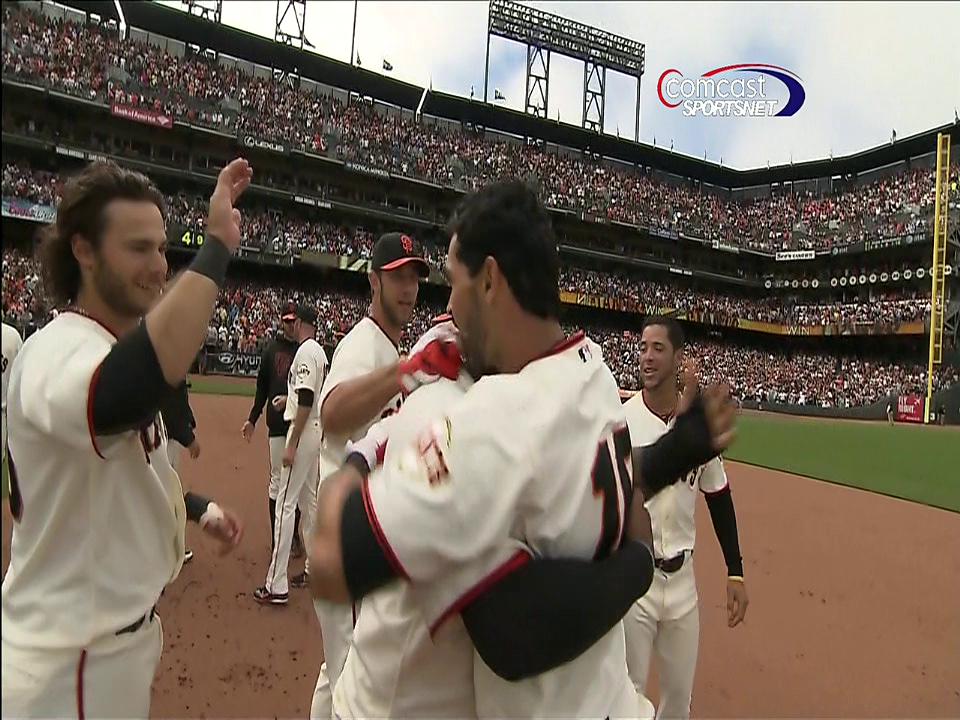 Thanks, Angel Pagan, you're the best.  (Confession:  I typed Andres Torres before I typed Angel Pagan.  May or may not have slept over the past week.)
The Undisclosed New England city was all kinds of fun, but I missed KNBR broadcasts and orange and black fans everywhere.  Sorry, Boston'ers, you're fantastic but not nearly as loveable as Giants fans are.  Also, I missed AT&T Park.  My proximity of about 15 miles to it is terribly comforting.  I had brief stretches of anxiety at being across the country.  Sadly, not making this up.
Anyway, onwards to happier things!  While I was away, the Giants went on that incredible streak of 36) without allowing an opponent to score a run.  36 innings.  That is a lot of innings.  Imagine 36 cupcakes.  Then 36 innings.  Then you will understand the magnitude.  Try it.  Understand now?  Good.  In the process, San Francisco captured first place for the first time since last August – picture all the cupcakes you've eaten since then and you'll understand that magnitude – and got a somewhat mindboggling number of players named to the All Star Team.
Whew.  They've been busy, hm?  It would appear that they did not miss me nearly as much as I missed them.  Alternately, maybe they did all this to lure me back because they knew that New England summer landscape is kind of enchanting.
I think I like that explanation better.
Diamond Girl
p.s.  In an embarrassing turn of events, I never got up the motivation to vote for the All Star Game.  In the way of penance, I have made it my personal mission in life to now get Yu Darvish in, in the Final Vote.  I would very much appreciate it if you could help me on that mission.  Vote right here and then comment and lemme know you did and I will deliver virtual homemade brownies to you across the cyberspace.