Beyond all of the rivalries and the noise, I like to think we all become baseball fans for the same reason.  We become baseball fans for moments, however rare, that put the rest of the world in black-and-white while the baseball field is full Technicolor.  We become baseball fans because when something like that happens – the connection to the other fans, to the players, to what is happening before our eyes – is very tangible and very, very magical.  Those moments get lodged inside of you and through losing seasons, through August blowouts, through crushing walk-off wins down the stretch, those moments are keeping you a fan, even if you don't know it.
Last night, Matt Cain pitched the 22nd perfect game in the history of Major League Baseball and the first in Giants franchise history.  27 up, 27 down.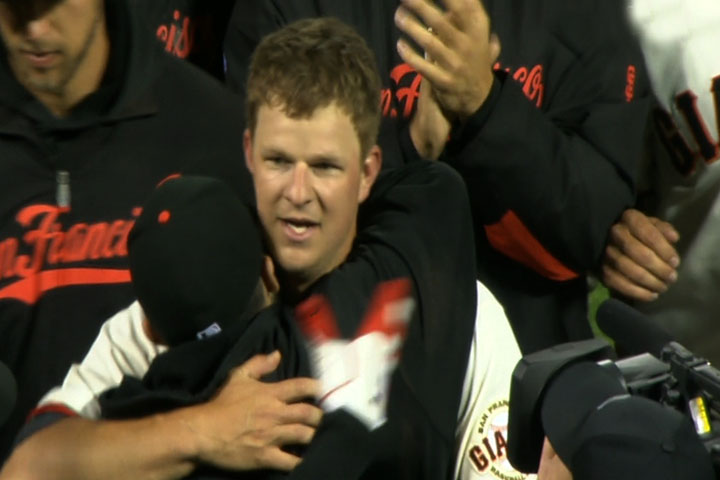 I don't have any fabulous story for where I was when it happened. I was where I usually am during games:  in my bedroom, snuggled up to my radio.  As it got really close, I turned on the video stream from MLB.com and even my long-suffering sister who has very little interest in baseball, other than being unequivocally convinced that Rickie Weeks is actually named Wiki Leaks, was cheering and biting her nails.  I truly believe Cain is a player no one can root against and in a career of high points, including zero earned runs in the 2010 postseason, this was the highest point of all.
I cried about baseball for the first time since Bengie Molina was traded – because, seriously, that was heartbreaking – but this time it was happy tears.  Because while Gregor Blanco dove in the outfield like gravity did not exist and Matt Cain threw the final pitch into Buster Posey's glove, there was just the game, statistically the best Giants game ever ever, and there is nothing better than that.
I will never forget it, as I am inclined to think none of us ever will.  A tip of the white beanie to Matt Cain who is perfect, now and always.
Diamond Girl
p.s.  Also, it was totally the sunglasses.  These things are way lucky.  I don't believe us fans can bring bad luck, but good luck?  Heck yes.  You're welcome, Matt Cain, history books and Bud Selig.