My day started off quite nicely, hearing Bengie Molina on 95.7 The Game and grinning from ear to ear.  I had forgotten how much I miss that guy.  You can hear the interview here – he discusses everything from Lincecum's struggles this season (more on that in a moment) to Melky Cabreras's historic month.  He is gracious and funny and informative and says "man" too much… and did I mention that I miss him?  Move over, Barry Bonds, I want Bengie to come back to the Giants as a hitting instructor.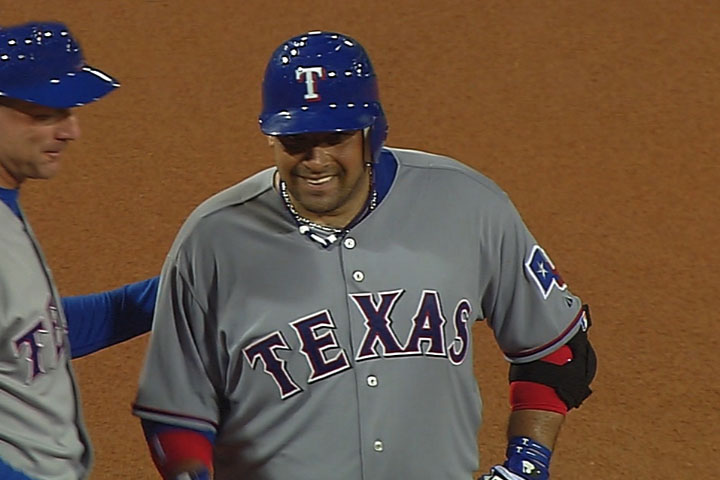 'Member this, guys?  "Pigs have flown, in Boston, Massachusetts."
Day kind of went downhill from there culminating with a horrible haircut (apparently every salon in the Bay Area is in on some "give Emily bangs even when she says she doesn't want them!" kick because, seriously, this is the second time in a row and I went to a different salon this time).  I am now nursing aforementioned horrible haircut and listening to The Shins, just because.  Virtual hugs, as always, appreciated.
Onwards!  (No crying in baseball, as they say.  Not that I was crying over this.  For long.)  Lincecum's outing against the Diamondbacks last night was encouraging, although there were still issues, for sure.  He pitched seven innings and allowed two runs, one earned.  Ironically, perhaps, it was one of his better outings this year, but he got the loss all the same and the game ended at a final of 4-1.  Arizona salvaged one game of the series and the Brewers did a tidy job down in Los Angeles, so San Francisco remains 5.5 out of first place.
Too early for scoreboard watching, you say?  Never, I say.  I scoreboard watch pretty religiously all year long because watching the trends go up and down is fascinating, for me, at least.  I also like to skim the magazine Elevator World when I get my hands on it, so my perception of fascinating might be a little bit off.  Point is, things for the Giants could be better, but they also could be worse.
Pablo's return to the lineup is nearing (this is where my grin returns) and the Giants did take two out of three from Arizona, which is a serious improvement from recent history against the Diamondbacks.  The 20 games in 20 days stretch is over at long last and I think we are all enjoying an off day.  Aside from, you know, the haircut fiasco.
Also… just saw that Yu Darvish is facing C.J. Wilson in Anaheim on Saturday.  This should be an interesting one.  *sharpens knives*
Diamond Girl