The first batch of catchers and pitchers reported to sun-filled Arizona today!  Since it's the Mariners, I figure this is probably the most sun they'll see all season, so they should suck it up and work on those tans pronto, if you ask me.  It's rather grey and dreary here in California, but I am basically sun-powering the whole city right now because I am soexcitedIcouldaboslutelyburst.  Like, soexcitedIcouldabsolutelyburst.
During the offseason, it's all speculation and a mix of tremendous optimism and tremendous pessimism.  Then as we get really close to Spring Training and everything, that converts to mostly just optimism.  Because, as we all remember, baseball is fun whether or not you're winning.  As long you're not being beaten by a) the Padres, b) the Dodgers OR c) the Phillies, then all is completely well.  Or fill in your hated teams of choice in those spots.  Baseball is usually fun, I'll say.  Except when the Giants are playing the Brewers or Rangers and my loyalties get all mixed up.
Can anyone say, "conditional statement" right now?!
Anyhow, the point is:  baseball is almost here.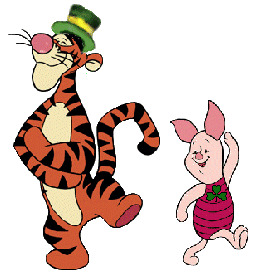 We have almost survived the offseason.  (And if you haven't, hello up there in heaven.  I'm glad to see they have good WiFi up there.)  Don't ask how Tigger and Piglet apply to this situation.  They just do.
Diamond Girl
p.s.  How could I celebrate this fabulous day without some cupcakes?  If you answered, "You couldn't!" then you are absolutely right.  Congratulations, you get a virtual cupcake as your prize.  And they're even pink-ish for Valentine's Day.  I am in love.  (With them.)